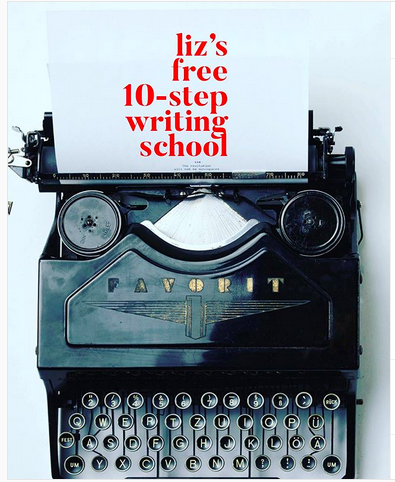 I loved Elizabeth Gilbert's Instagram post on the top-ten of effective writing.
Of her successful, audience-tested suggestions, a few merit special attention, especially #1: Tell your story TO someone; #4: Don't worry if it's good, just finish it; and #9: What gets you [to keep going on a writing project] is not pride but mercy.
Although Gilbert's expertise is in memoir and memoir-adjacent genres, every writer I know (including me) can benefit from the reminder that a story is always for someone. If you haven't yet determined their identity, it's you. Sometimes it makes sense to tell yourself your story, but the choice of audience will rigorously shape your delivery, so don't abrogate the power.
Of course, it's easy for a bestselling author to tell us that we shouldn't worry if our work is good. But Gilbert is right: Perfectionism is the enemy of good; the challenger of completion; the rival of fulfillment. Getting the words down on paper is often the hardest thing writers do, but words can be revised, refined, and rarefied. Simply put, if you can't get the words out, you can't make them good. End of story.
Because getting the words out is so hard, writers do well to show themselves and their work mercy. Writers often write in spite of the difficulty and weakness of words, in spite of their inevitably truncated expressions. But writers who learn to view their efforts as temporary rather than permanent failures are better prepared to view revision as a compulsory part of their work. Unlike the writer motivated by pride and tripped up by missteps, a compassionate writer already understands that their words will never be quite good enough: They aim instead to make the words as resonant and meaningful as possible.
Writing is hard, but as Gilbert intimates, it can also be easy: Just pick your story, your listener, and your words…and then keep going until you've reached the end.
https://www.modernwritingservices.com/wp-content/uploads/2020/11/mws_logo_lockup2-1-1030x220.png
0
0
Molly Gage
https://www.modernwritingservices.com/wp-content/uploads/2020/11/mws_logo_lockup2-1-1030x220.png
Molly Gage
2019-08-27 00:00:00
2020-01-14 20:10:44
Writing 101