In Which, "You Are Not Only Wise, and Kind, and Swift, but You Are Also the Bravest"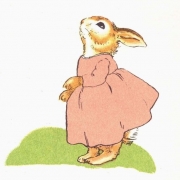 Spring is not a comfortable season in Minnesota. Yes, the snow melts, the wind gusts, and the rain pelts. But then, the snow rudely returns. The wind persists in gusting. The rain insists on pelting. While some days reach, gloriously, into the 50s, many others stall in the 30s, threatening the goodwill of exhausted citizens.
But if spring isn't comfortable, it is comforting. When songbirds birds return to the shrubbery, loons to the city lakes, and sunshine to the horizon, it reminds us that coldness will warm, darkness will lighten, and green things will grow.
In my house, spring also signals the return of the most comforting of all childhood tales, The Country Bunny and the Little Gold Shoes. The story, written by Du Bose Heyward and illustrated by Marjorie Flack's delicate, saturated pictures, wears its generational coziness on its title page. There, the "as told to Jenifer" invokes a beloved family tale handed down from father to daughter (and, according to Heyward's biography, from mother to son).
Although Heyward may be better known for his 1925 novel Porgy, upon which the Gershwin opera, Porgy and Bess, is based, he published The Country Bunny in 1939. It's a story about Cottontail, a clever bunny "with a brown skin and a little cotton ball of a tail," who wanted to be one of the five Easter Bunnies who brought eggs to children on Easter. 
But "the big white bunnies who lived in fine houses and the Jack Rabbits with long legs who can run so fast" laughed at her ambition. They laughed even harder when Cottontail, "much to her surprise," found herself with a husband and 21 babies to take care of: "Only a country rabbit would go and have all those babies," they said.
Alone, Cottontail put aside her Easter-Bunny dream and tended to her babies. As time passed, and her bunnies grew, she taught them to sweep, clean, cook, wash, sew, mend, sing, dance, garden, and create. When she heard that one of the Easter Bunnies had become too slow and that Old Grandfather would pick a new Easter Bunny to take his place, Cottontail decided to bring her children to the Palace of Easter Eggs to watch the festivities.
Now, Cottontail's story is not only about the softly feminist fulfillment of a dream. It's also, if I may, a story about letting go of a dream so as to return to it with a more experienced, more nuanced perspective. Cottontail becomes an Easter Bunny, but not because of a steadfast, single-minded commitment. She becomes an Easter Bunny because her experiences fostered the requisite Easter-Bunny qualities of wisdom, kindness, swiftness, cleverness, and heart.
The Country Bunny extends hope toward a future that valorizes not just heart but a "loving heart for children." Cottontail's bravery comes from her experience attending-to, making her a hero and thus temporary keeper of the little gold shoes.
The book, it must be said, is a bedtime investment—a concise Mo Willems it is not—but its story about a timely triumph of kindness and heart is a tonic amidst the cruelty of These Times, making every moment spent with it a true comfort.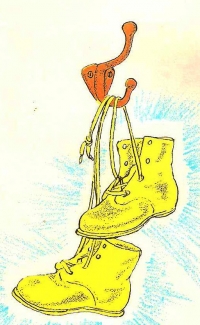 https://www.modernwritingservices.com/wp-content/uploads/2020/11/mws_logo_lockup2-1-1030x220.png
0
0
Molly Gage
https://www.modernwritingservices.com/wp-content/uploads/2020/11/mws_logo_lockup2-1-1030x220.png
Molly Gage
2020-04-08 19:19:21
2020-10-30 19:09:34
In Which, "You Are Not Only Wise, and Kind, and Swift, but You Are Also the Bravest"