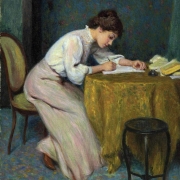 Like other Minnesotans, I am not as much out in the world these days. When I venture into public, it's to run necessary errands, where masks make idle chit-chat feel positively furtive.
Now, when I'm asked what it is, exactly, I do, I'm describing my services–their use and their potential value–over the phone to prospective clients. Typically, I'm describing developmental editing, my most popular service for writers and publishers.
A developmental editor is a big-picture editor who helps strengthen a manuscript's focus and structure. Most developmental editors (or at least this one) offer hands-on substantive support, including reverse outlines, sample sentences and paragraphs, and quick-and-dirty lessons on grammar or syntax.
My developmental work is informed by a bifurcated sense of focus, in both textual and extratextual terms. Textual focus refers, of course, to the clarity and persistence of subject-specific investigation. For example, if I'm working with a self-help or how-to book, I'm assessing it for focus on a clear, replicable process.
Extratextual refers to something a bit different, but something that often proves crucial to the success of a final project: This is the triangulation of a writer's message, audience, and goals.
Frequently, when a book lacks textual focus, the blurred lines are a consequence of a lack of extratextual lucidity. Accordingly, my developmental services frequently begin with a series of phone calls to discuss a writer's sense of alignment among message, audience, and goal.
These conversations are always enlightening, and by capturing a writer's rhythm and cadence, they invaluably inform developmental work. They also set in motion the deeper, more intense, and ongoing conversation that constitutes a major part of the developmental edit.
https://www.modernwritingservices.com/wp-content/uploads/2020/11/mws_logo_lockup2-1-1030x220.png
0
0
Molly Gage
https://www.modernwritingservices.com/wp-content/uploads/2020/11/mws_logo_lockup2-1-1030x220.png
Molly Gage
2020-09-01 21:26:00
2020-10-02 21:12:08
What Does a Developmental Editor Do? Part One: Between Author and Editor