The Limitations of Storytelling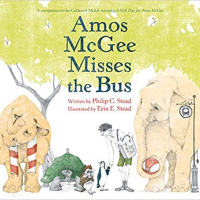 Have you read A Sick Day for Amos McGee, winner of the 2011 Caldecott Medal? The story is gentle and kind, its pictures tender and sincere. It has quieted many a rambunctious child in my own chaotic house.
In celebration of its sequel, Amos McGee Misses the Bus, Philip Stead, author, and Erin Stead, illustrator, spoke on Weekend Edition Saturday (NPR) about writing stories untethered to time.
Aiming for classic status for Amos, the Steads approach their work not in terms of the risks they like to take but of the limitations they like to impose: "'We didn't want to necessarily be that rigid,' says Philip Stead. 'But…there's something very beautiful about working with limitations. It kind of sets parameters for your project.'"
He refers to the deliberately defined color palette by which Erin Stead's images, so delicate and precise, become durable. But he makes a more universal point. Limitations, parameters, and boundaries can be a conduit to creation.
We often perceive limitations as restrictions holding us back or obstacles keeping us from our goals. But limitations–certainly of color, form, and genre, but also of time, desire and will–can stimulate inventive solutions.
We see this at work in haikus, sonnets, villanelles (poetry in general), which raise expressions of limitations, or perhaps limited expressions, to an art form. But it's a more flexibly applicable technique.
The task of creation is challenging, in part because the galaxy of invention is so vast. When everything is possible, it's hard to make anything real. If we can choose all things, how can we settle on, much less commit to developing, any one thing?
But of course choices (usually) must be made. Decisions are very often required. In some cases, it can be surprisingly useful to narrow, even artificially, our choices. The Steads chose to limit their story to the subject of kindness and to restrict their color palette to "muted yellows, greens, blues and reds." Other writers might find the imposition of a genre or a deadline a useful, even necessary, constraint.
It's true that a limitation can be a hindrance. It's also true that it can sometimes be a provocation.
https://www.modernwritingservices.com/wp-content/uploads/2020/11/mws_logo_lockup2-1-1030x220.png
0
0
Molly Gage
https://www.modernwritingservices.com/wp-content/uploads/2020/11/mws_logo_lockup2-1-1030x220.png
Molly Gage
2021-12-16 03:44:55
2022-01-05 03:30:28
The Limitations of Storytelling