"No One Ever Builds a House"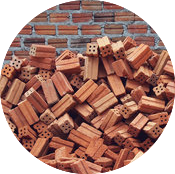 Although he may be better known for his "2nd 4th grade" illustration skills, Tim Urban's essays can be energizing. Exhibit X: His recent NYT editorial, in which he offers advice on how to approach time in a (near) post-Covid future.
The editorial is based on his "depressing math" posts from 2014 and 2015. There, Urban reminds us that although we tend to think we have all the time in the world, we don't. Even if we're very lucky and live a very long time, the experiences that define our lives—visiting friends and family, eating pizza, reading books—are not limitless. In fact, they're depressingly countable. 
It's gloomy. But it's also galvanizing. When we realize that the life we (perhaps) passively live can be easily broken down into countable experiences, we can activate our agency to make different choices. Different choices can change the math, making the sum a little less depressing. 
Elsewhere, in Exhibit XX, Urban makes a similarly gloomy-but-galvanizing point about procrastinators. Based on his own rich experience, Urban argues that procrastinators frequently forget that, "No one 'builds a house.' They lay one brick again and again and again and the end result is a house."
Urban here echoes Epictetus; indeed, the stoics have enjoyed a popular renaissance in Oliver Burkeman's and James Clear's arguments on habit formation. Part of their message is that transformation is not the result of epiphany but the product of mundane persistence. (And persistence is most efficiently executed through habits.)
Taken together, depressing math and the procrastinator's faulty memory can help us think about the mediating role we can play in our own lives. By intervening in the parts—whether in terms of the experiences that add up to a life, or in terms of the small steps that result in a transformative project—we can change the whole. From the perspective of the present, this kind of intervention requires a persistence that tethers it to the mundane. It's often only from the vantage point of the future that we can see its bigger meaning.
https://www.modernwritingservices.com/wp-content/uploads/2020/11/mws_logo_lockup2-1-1030x220.png
0
0
Molly Gage
https://www.modernwritingservices.com/wp-content/uploads/2020/11/mws_logo_lockup2-1-1030x220.png
Molly Gage
2022-03-23 22:01:59
2022-04-02 18:24:40
"No One Ever Builds a House"