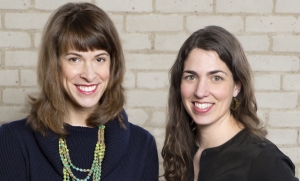 Oh, look at those young women up there! It's hard to believe how much has changed since Jessica Knight and I began Modern Writing Services: Houses bought and sold; babies born and grown; and, of course, business growth and change.
This year marks the first full year without Jess. In 2019, she transitioned from her role at Modern Writing Services to that of a full-time research writer and analyst at United Health Group. While she still consults at MWS, she does so in a bespoke capacity. Here, she talks about her move:
Q: What precipitated your decision?
A: There's not really one why, though going in-house is something I've thought about for a while. I was interested to see what it would feel like to have a longer-term stake in my work than I was able to have as a consultant. It can be tough to pour your heart and soul into a project and then have very little control over what happens to it after you turn it over to a client! I was also ready to step back from the business-ownership side of…well, owning a business. And I knew Molly would continue to do great things with MWS. Plus, it gave me an excuse to buy a bunch of new clothes!
Q: What's your new position like?
A: It's really challenging, and really interesting. It's been a huge learning curve, and I imagine that's going to continue pretty much as long as I stay in this job, since developments happen so quickly in the healthcare and R&D worlds. My role involves very diverse work, from conducting literature reviews and writing white papers for our business and scientific leadership; to working with our data scientists, statisticians, and clinicians to help them develop research questions, analyze results, and create narratives of their research; to collaborating with our subject matter experts to refine conference presentations and papers for publication.
Q: How is it different from, or similar to, your MWS work?
A: It's a ginormous company, which has benefits and drawbacks. To some degree, the R&D group feels like its own little island with an independent culture, but even within R&D I have a couple hundred coworkers. And the work I do is very collaborative across research teams and roles, so the day-to-day feels a lot different from what my day-to-day was like at MWS, when my projects were almost completely solo ventures.
However, the job draws on a surprisingly similar skill set to a lot of the work I did at MWS. While it's obviously all healthcare focused, the research, writing, and editing that I do isn't so different from the kinds of work that I did for nonprofits, universities, and presses with MWS.
Q: The best part?
A: The energy and intelligence of my coworkers—it's really exciting to work with such smart people and to be tasked with trying to solve such challenging problems. I'm constantly learning—and I love that constant learning is a foundational part of my job. And the food. We have weirdly good food at our office!
Q: The worst part?
A: Hands down it's the commute. I've gone from rolling out of bed and into my home office, to slogging through a 30–60 minute drive each way. I can work from home, but it's often just easier to be in the office. I listen to a lot of books on tape, which, thank god for books on tape, or I'd be a totally rageful driver. I do my best to be zen about it, but it's for sure a drag to spend so much time in the car.
Q: When will you work with Molly again?
A: In my head, I still work with Molly. We collaborated on everything we did for six years at MWS, so I think there will always be a little piece of my brain that operates on a WWMD (what would Molly do?) basis. And I jump on any chance to actually work together again–I'm always available to come on board for special MWS projects
https://www.modernwritingservices.com/wp-content/uploads/2020/11/mws_logo_lockup2-1-1030x220.png
0
0
Molly Gage
https://www.modernwritingservices.com/wp-content/uploads/2020/11/mws_logo_lockup2-1-1030x220.png
Molly Gage
2020-02-25 16:12:10
2020-02-25 16:31:08
Two Become One