The Gap Between Ambition & Work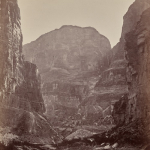 When beginning a new project, especially one that requires skills not yet acquired and experience not yet gained, we often encounter a gap between what we envisioned for our project and what it seems poised to achieve.
This chasm is an unavoidable feature of the creative landscape. It's there, and we know it's there, and if we've created something before, we know that, sooner or later, and typically when we're just about ready to release our new project into the world, we'll arrive at its edge. 
The crevice is the beginner's gap, and Ira Glass of This American Life candidly defines it as the space separating our work from our ambitions for it. Encountering this gap is demoralizing–and arriving at its brink over and over again makes it feel totally unnavigable.
Plus, there's the irritating truth that one of the trickier aspects of the beginner's gap, aside from its dark infinitude, is that it remains open for a surprising amount of time. "Beginner" is somewhat of misnomer here because the gap is actually always present, it just goes by other names.
Luckily, it gets easier to navigate. The work of creating a lot of material over an indeterminate but necessarily long period builds the bridge required to reach the other side of our efforts and feel real satisfaction.
But most of us don't get there. We encounter the gap once or twice or more and never want to encounter it again. We experience the disappointment of the gap's darkness as a message to turn back. 
We should instead experience it as a message to keep going. The beginner's gap is just one element in a larger scene: It's true that there's no way to really close it (in part because some disappointed ambitions are a frequent companion to creation). However, we can prepare for it and build a bridge across it by expecting our projects to fall short of our ambitions, and by keeping going anyway.
https://www.modernwritingservices.com/wp-content/uploads/2020/11/mws_logo_lockup2-1-1030x220.png
0
0
Molly Gage
https://www.modernwritingservices.com/wp-content/uploads/2020/11/mws_logo_lockup2-1-1030x220.png
Molly Gage
2023-08-08 20:41:55
2023-09-26 02:50:50
The Gap Between Ambition & Work