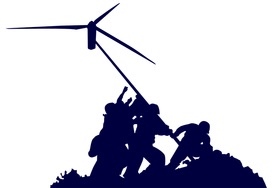 It's Earth Day, which means Transform Yourself with Climate Truth, my book with Margaret Klein Salamon, is now available from New Society! But because we're quarantined in a pandemic while radical pro-gun extremists bully nurses, doctors, and state governments to sacrifice the weak—as if that's a meaningful solution to the precarious futures of important industries (like publishing)—it's a muted celebration.
Earth Day was established in 1970 on the presumption that Americans deeply cared about the environmental damage wreaked by industrial development. Bipartisan, cross-generational, and cross-class supporters verified this belief, publicly recognizing our fundamental human reliance on a healthy environment for sustenance.
Although the recognition is often collapsed into a niche interest in  "environmentalism," it's an extension of fact: We can't bear children, raise children, be children, grow into adults, or function as adults without the benefit of clean air, good food, and drinkable water. This is the requirement of every member of our species, whether or not we care about sustaining the planet beyond our mere survival.
Today, care—such a crucial requirement for change—feels like a scarce resource. Callous examples of leadership reinforce the sense of finitude: Trump's pride in his antipathy seems to inspire those who enjoy participating in a rigid Darwinian contest where every resource is limited. In this game, sacrificing the weak is the only available strategy for defining the strong.
Then, of course, there are those who must attend to so many pressures from so many sides that care can only be parceled out on an as-needed basis. COVID-19 has simply made manifest this pressure: Who can care about anything else when a minimum of 45,000 Americans are dead and 22 million Americans are unemployed?
When care is considered finite—whether because it serves "the strong" or preserves "the weak"—it can only be utilized in extremity.
Yet care is not a limited resource. In Transform Yourself with Climate Truth, Margaret argues that our environment is essential to our practical and spiritual lives, and we must care enough about it to prioritize its preservation. It's not just a logical decision; it's also an emotional one. The book guides readers to welcome the pain contingent on caring, because, by welcoming the pain, we expand our capacity to care.
Margaret is a psychologist, and she knows from personal and professional experience that caring can hurt. In fact, to care is rooted in Germanic Old English to sorrow or to grieve. While our desire to avoid pain is natural, it is not possible. And because it limits our ability to feel and thus to empathize, it should not be desirable. Pain is a part of life, sometimes a very big part of life: When we learn not just to withstand that pain but to welcome it, we become truly strong because we become capable of infinite care. 
https://www.modernwritingservices.com/wp-content/uploads/2020/11/mws_logo_lockup2-1-1030x220.png
0
0
Molly Gage
https://www.modernwritingservices.com/wp-content/uploads/2020/11/mws_logo_lockup2-1-1030x220.png
Molly Gage
2020-04-22 18:35:22
2020-10-30 19:06:24
Catastrophe After Catastrophe